Getting Ready for 5G: Why Streaming Video will Surpass Linear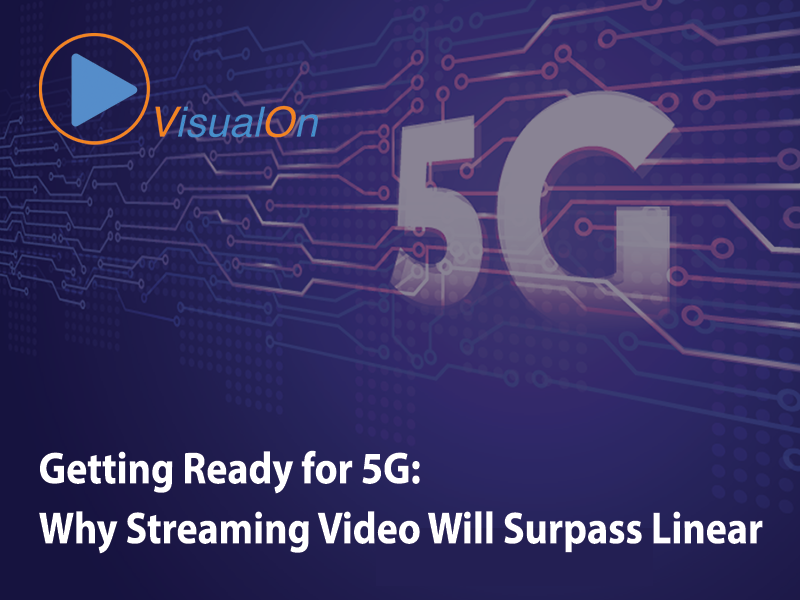 In order to displace an incumbent technology, new technology must provide significant benefits to users. 5G is a good example as we believe it will transform video, streaming away from traditional linear TV, e.g. "cord-cutting." 5G offers users better engagement and new ways to consume content (multi-stream, volumetric, AR, and VR), as well as offers operators significant benefits such as addressing new markets and improved monetization.
Streaming functionality powered by 5G
Compared to linear TV, streaming video does have disadvantages including start-up time, channel switching time, and latency, but these areas are all improving. 5G will be a primary driver for increased streaming video consumption, largely due to the widespread access for users (across geographies not well supported by affordable broadband or mobile users), and the new functionality it enables. 
For example:
Multiple streams – gives viewers a mainstream and 3 or 4 smaller streams arranged on the side or bottom of the screen with different views. The streams are synchronized and the viewer can seamlessly switch between streams

Volumetric video – provides pan-and-zoom capabilities for a stream, allowing the user to change perspective and zoom in to choose perspectives

Augmented reality – meshes video with real objects

Virtual reality – brings 360-degree immersive video
These are different techniques that give the viewer greater control of content consumption and personalization of the experience. None are currently available or even on the horizon for linear TV, making them specific to streaming – powered by 5G.
Addressing the monetization challenges of streaming video
Monetization remains a frustrating problem for streaming video. According to Conviva's Q1/2020 State of Streaming report, 41% of ads failed to start during the first quarter of 2020 – an increase of 10% from Q4/2019. Conviva attributed this to playback errors and lack of inventory. These issues are interconnected – the ad experience is often poor and unreliable, therefore advertisers look to other types of media.
5G can help all the way around. It provides a better user experience through faster startup times, higher picture quality, less buffering, etc. on content that has higher audience engagement. Combine this with the inherent benefits of streaming (think targeting and analytics) and 5G offers a compelling mix of viewer experience vs. service monetization.
Monetization is critical because not only does it help support content creators as they lose traditional revenue streams through cord cutting, but it also helps support the infrastructure costs to deploy 5G globally. This is a fundamental issue in many markets. For example, in the United States, Verizon, T-Mobile, and AT&T must spend tens of billions for equipment and, in the case of AT&T and Verizon, must acquire spectrum suitable for sub 6GHz 5G, while companies like Google, Amazon, Apple, Netflix, and Disney will reap many of the benefits.
Ultimately, services and operators will either have to find mutually beneficial business models or they will increasingly find themselves competing (e.g. AT&T acquiring Time Warner to transform into media giant). 
Enhance the viewer experience on 5G
VisualOn is committed to helping provide the necessary technology to improve the viewing experience in 5G through our Multi-Stream Sync, low latency, 180/360-degree playback and AdFlow solutions. We're also developing volumetric video solutions.
For more information, please reach out to use at sales@visualon.com or see our website at www.visualon.com/contactus. 
Written by: 
Michael Jones
SVP and Head of Business Development