The World is Transforming with Enhanced AI Technology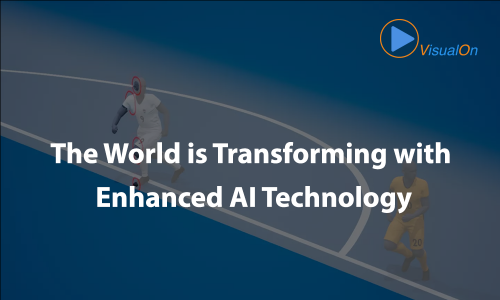 The 2022 FIFA World Cup™ shared the most modern AI technologies, metrics, and performance data in tournament history with the worldwide TV and online audience. According to FIFA, every match has its own unique set of in-match and post-match enhanced football intelligence visuals presented as augmented reality and traditional graphics. These new statistics break down each area of the game into fine detail and provide operational definitions and multiple video examples to clearly define each action.
For viewers, innovative playback features continuously boost sports streaming. Viewers' needs are constantly increasing which are not easily satisfied by stable and high-quality streaming. Instead viewers' are seeking more control of their live sports streaming experience. More streaming services launched advanced features for viewers to interact with the content, such as multi-stream viewing, virtual watch parties, volumetric videos, augmented (AR) and virtual reality (VR), etc.
Besides increasing the viewing experience, AI technology has also been applied to decrease bandwidth costs. According to streaming platforms' 2021 annual reports, such as IQIYI and Fastly, the increased bandwidth costs have historically accounted for the majority of the cost of revenues. As for Fastly, the cost of revenue was $167.0 million for the year ended December 31, 2021, compared to $120.0 million for the year ended December 31, 2020, an increase of $47.0 million, or 39%. This is primarily due to an increase in bandwidth costs of $11.1 million. Besides, the volume of video data is growing as the video quality is increasing with the adoption of high-resolution and high frame-rate video, which push up bitrates, sometimes at the expense of other Quality of Experience (QoE) metrics such as video start time, which increased in almost all regions. Therefore, bandwidth-saving solutions will be helpful to save streaming costs and provide a seamless viewing experience.