Innovative Playback Features Can Boost Sports Streaming during COVID-19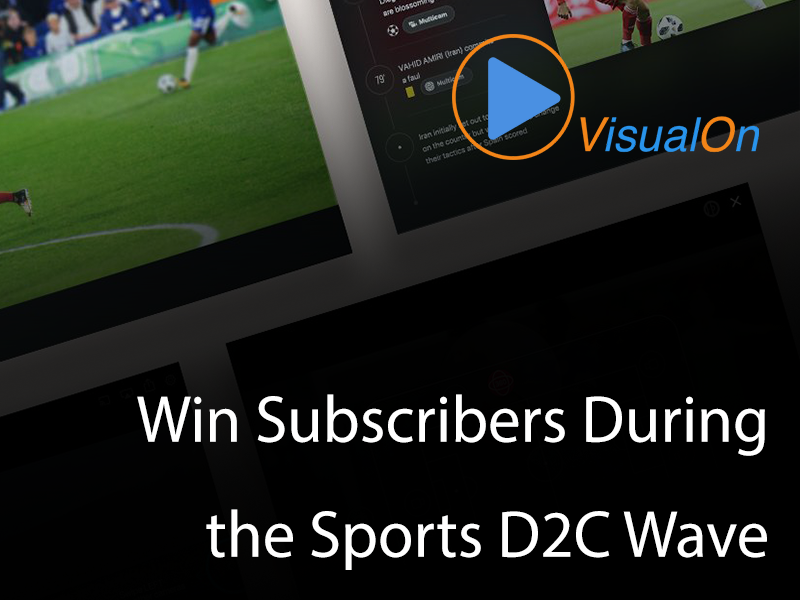 Accelerated by COVID-19, the D2C process is moving faster than two years ago. Ampere's latest wave of consumer research, for Q1 2021, found the average U.S. consumer reporting subscribing to four-plus subscription VOD services, and one-quarter subscribing to five or more.
Meanwhile, sports D2C platforms play an important role in rights-holders media strategies. The global sports media rights revenue hit $51bn in 2019 and is projected to reach $56.1bn by 2022, according to the Sports Business Global Media Report 2019. So, what helps a sports D2C win subscribers?
Low Latency 
Delays of 6 to 30 seconds between the event in real-time and the viewer seeing the stream, leads to 'spoiler' events such as alerts, messages, or neighbors celebrating before you do. Latency also creates inequality in the betting market. VisualOn's low latency technology is trusted by top companies, such as Amazon, KDDI, KT, and China Mobile MiGu with:
Minimized re-buffering and bitrate oscillation
Glass-to-glass latency of broadcast comparable latency, with DRM, in real-world conditions
Stable Performance
Buffering, reduction in picture quality, and outages during surges in internet traffic is one of the biggest challenges that sports D2C platforms are facing. Provide a stable viewing experience for live and VoD content. Also, service providers need to bring the variations in quality in different parts of the world into the consideration
Fan Engagement Experience
48% of the rights-holders analyzed use their D2C service purely as a content platform, according to Mediakind's research. Operators have the opportunity to turn sports fans into paying users of new live sports streaming services. More streaming services are seeking advanced features for viewers to interact with the content, such as multistream viewing, virtual watch parties, volumetric videos, augmented (AR) and virtual reality (VR), etc. Read more about innovative playback features that boost fan engagement