Meet VisualOn at IBC 2019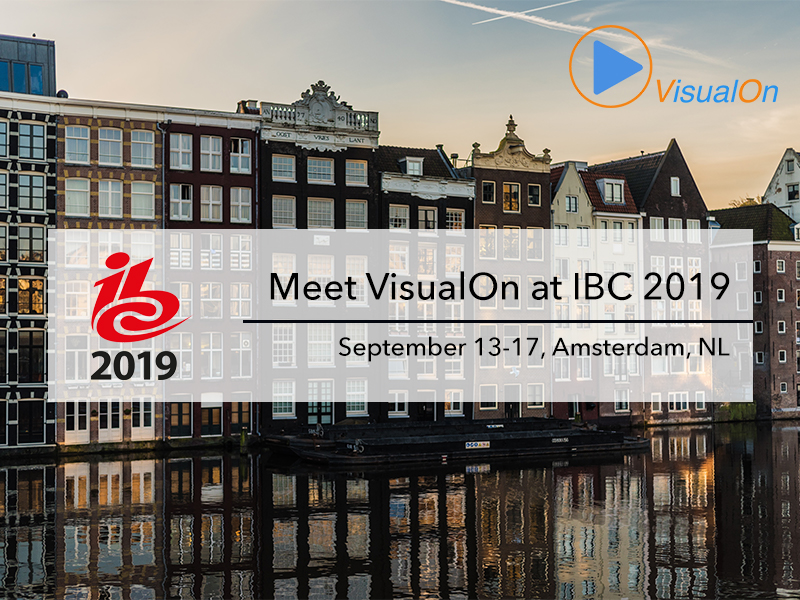 IBC 2019, Amsterdam (Hall 5 #C40) – VisualOn Inc., the industry-proven video stream solution provider, will showcase how its advanced all-in-one streaming media solutions are addressing the limitations of current streaming services across different platforms at the IBC 2019. The company is helping major streaming service providers enhance their competitive profile with new features and functionality for connected client devices and will have several available as live, hands-on demonstrations shown for the first time.
IBC 2019 Demo Highlights
Adaptive NightVision:  VisualOn's Adaptive NightVision feature enhances its proprietary Media Platform player by allowing low-light or dark scenes to display more clearly for a superior viewing experience on mobile devices. Subscribers now have the ability to easily select the viewing effects they want directly on their mobile devices, which fulfills the promise of a high-quality, TV Everywhere viewing experience – on any screen. VisualOn's Adaptive NightVision is built on an advanced algorithm that analyzes the video, in real time, for contrast, brightness, color saturation and key metrics. Viewers can easily set their preferred experience through a simple slider directly in the Media Platform player
Multi-Stream Synchronization: VisualOn's multi-stream functionality is underpinned by the company's unique stream synchronization techniques, which are crucial to playback timing. Patent-pending MultiStream Sync harmonizes the internal clocks on set-top boxes and mobile devices with streams to display multiple HD streams on a single screen. Furthermore, the VMP delivers low latency video, which has been called the final frontier for OTT video, through innovative buffering techniques and proprietary bitrate adaptation algorithms that can reduce latency down to 3.5 seconds, glass-to-glass, in real-world conditions, including DRM protection.At IBC 2019, VisualOn will be demonstrating this MultiStream Sync feature with its partners Harmonic for its low latency encoding solutions, Synaptics' for its high-end system-on-a-chip (SoC) from its VideoSmart solutions, and Wildmoka to power the live sports replay through an automated workflow.
Low Latency Live Sports Experience with OTT Video: The advent of OTT video is opening new opportunities on how we consume live sports. With the power of two-way data, operators have analytics to improve QoS, analyze viewer behavior and can serve up targeted programming. Operators can take this functionality further for an optimized live sports experience. Imagine enabling viewers to interrupt coverage for replays rather than when broadcasters choose. Or allowing viewers to select camera angle and even allowing multiple streams on one screen or shared between several. This promises to revolutionize the viewer experience in a very fundamental way. However, the technical challenges are significant and can only be accomplished through tight coordination and partnership through the entire ecosystem and technical innovation. VisualOn, with low latency live sports demo, will present the opportunities, challenges and practical solutions to move OTT ahead of the curve for live sports at IBC 2019.
UHD Picture-in-Picture on Android TV: Most Android TV platforms max out the native hardware decoding capability when playing UHD/4K, making Picture-in-Picture (PiP) impossible. The company has enhanced its VisualOn Media Platform (VMP) with an innovative way to enable smooth, flawless PiP capability for up to three SD streams in Android TV, which can be synchronized with the main UHD/4K stream to provide unique viewer experiences. In collaboration with Harmonic, the first-time demonstration will show how it addresses the Android TV limitations using streams provided by Harmonic along with VMP's unique stream synchronization technology."Harmonic is happy to collaborate with VisualOn in bringing multiple decoded streams to the 4K Android TV environment, enabling picture-in-picture for the first time," commented Harmonic's Thierry Fautier, VP Video Strategy. "This is a critical step toward bringing Android TV on par with the second screen experience."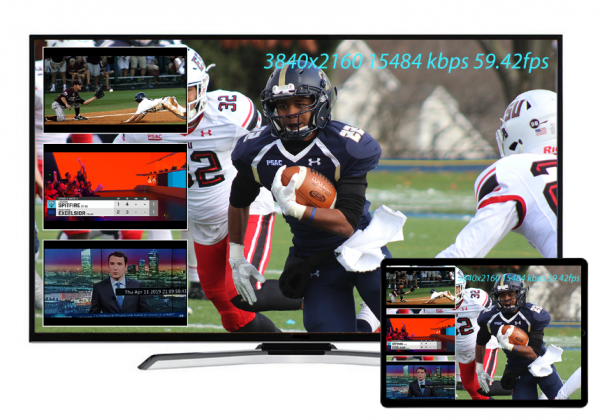 Fast Channel Switching: Innovative technology developed by VisualOn that allows viewers to change channels as quickly as a swipe and enables the user to enjoy split-screen viewing by holding mid-swipe. This allows sports fans to watch two games at once or quickly tune between games to follow all of the action!
AV1: VisualOn offers a vast array of highly-optimized codecs for nearly any audio or video format, including solutions for automotive infotainment that allow customers to play any content. We have the industry's most efficient AV1 codec, which includes support for all AV1 features (e.g. tiles and film grain synthesis) as well as an Opus decoder that can provide extremely high quality while minimizing power consumption.
Advanced streaming: VisualOn supports a wide gamut of technologies and standards to provide the highest quality streaming experience, including: HEVC, DASH HEVC, CMAF DASH, UHD/4K and all major HDR formats, at IBC 2019, the company will demonstrate these technologies and provide insights into the right format, protocol and standards for a given streaming use case.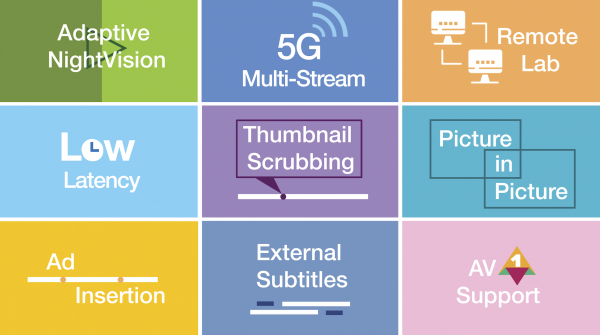 Join Our Speaking Session
To paraphrase the old theatrical saying it MUST be "all right on the night", when streaming live events, especially premium sports. In this session experts will discuss how to deliver the optimum live sports experience and share insights and knowledge gained from hand-on experience of live streaming some of the biggest sporting events to fans worldwide.  Speakers will also discuss the growing importance of low latency and look ahead to how gamification of content add new dimensions to streamed live-sports and esports  experiences in the near future.
Topic: Streaming Live Events: When It Must Be All Right On the Night




Date:

Monday, September 16th 13:00-13:45 


Location: IBC Content Everywhere Hub
Speaker: Michael Jones, SVP and Head of Business Development, VisualOn 
IABM BaM Awards 2019 Ceremony




Date:

Saturday

, September 14th 18:00  


Location: IBC Executive Lounge
Finalist: VisualOn – Remote Lab