Meet VisualOn at Virtual NAB Show 2020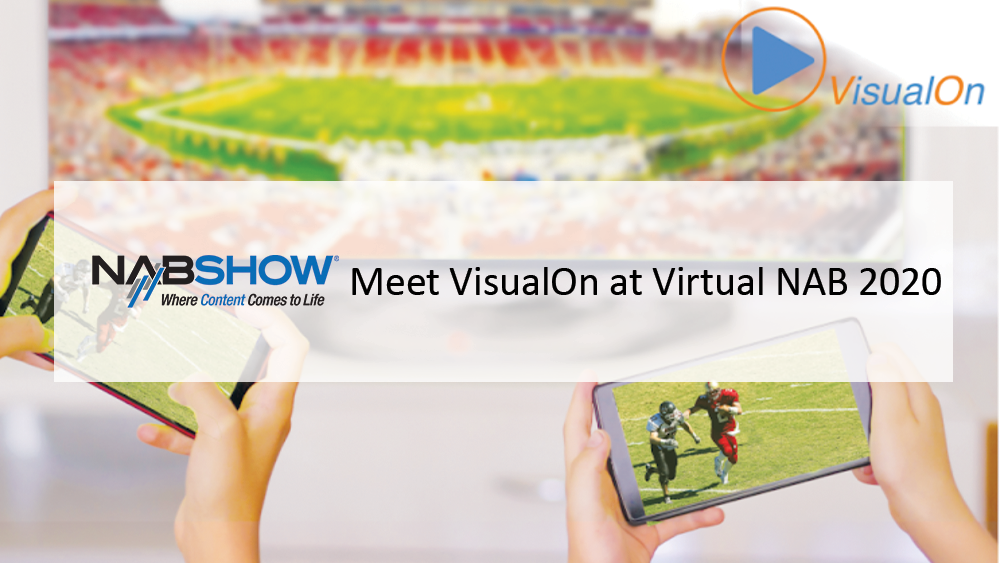 We're bringing our NAB experience to you!
Book a meeting with our video innovators during our Virtual NAB 2020 event to discuss how we can help you create extraordinary experiences for your streaming services.
We are able to demonstrate our latest innovative video player features and novel customer service options.
Demonstration Highlights
Remote Lab™
Now you can find and resolve video playback issues – remotely. Remote Lab is the industry's first ultra-low latency testing and debugging suite that features real-world network conditions at 30+ frames per second. 
Allows remote testing and debugging of Android devices, set-top boxes and smart TVs

Machine learning-based automation tools pinpoint the exact moment when an issue occurs, and can flag potential problems before they happen. It's like your virtual Goldeneye.

Eliminates the need and expense for video experts and the right devices to be in the same place – especially vital during the pandemic travel restrictions
MultiStream Sync™ for 5G
NEW! MultiStream Sync has been updated to display multiple synchronized streams on the same device, as well as sync with streams on other devices. Displaying multiple camera angles for live events synchronized with low latency might look easy (like what we did with Fuji Television Network and KDDI), but our patent-pending approach features unique stream sync techniques that you can't find anywhere else.
Low-latency, multi-stream playback provides a revolutionized viewer experience – ideal for 5G video services 

Innovative buffering techniques and proprietary bitrate adaptation algorithms reduce latency to 3.5 seconds, glass-to-glass, in real-world conditions, including DRM protection.

Invest in your video playback now to be ready for live events of the future.
Demo with KT:
(video content belongs to Naver)
Read More: South Korea's KT Selects VisualOn for Advanced Video Streaming on 5G
Adaptive NightVision™
Clearly see detail and color in even the darkest scenes for a superior viewing experience no matter which type of screen you are watching. 
Our advanced algorithm analyzes the video, in real time, for contrast, brightness, color saturation and key metrics.

Viewers can select their preferred experience directly on their mobile device.

Coming soon: Support for hardware DRM. Stream premium content to all devices in confidence knowing that you are completely compliant with your content license agreements.
See It in Action:

Read More: 'Game of Thrones': A New Night Vision Feature Could Have Optimized 'Long Night' for Mobile Screens
Device Fragmentation
Device fragmentation is a major problem for both Android devices and smart TVs. Playing video reliably on a vast number of devices from different manufacturers, with different chipsets and operating system versions is extremely challenging and resource intensive. VisualOn has extensive experience addressing fragmentation for its customers and ensuring that streaming video reliably plays no matter the device or location
Here it Here First
Our R&D teams have been working on some new enhancements to our VisualOn Media Platform that we can preview for you. Think advanced interactive features for a superior playback experience that sets you apart.
Ask about our other solution demonstrations:
AdFlow – 

Better monetize your video by offering smooth content-to-ad, ad-to-ad and ad-to-content transitions with minimal disruption.

User Experience Monitor – 

Gather deep player metrics for session playback analysis and field troubleshooting.

Fast channel switching – 

Offer a seamless user experience when switching between channels, with the innovative "carousel" effect.

360 and 180 degree video playback
Demo List
Synchronized playback for 5G application
Multi-views on one device (Android, AndroidTV, HTML5+)
Low latency, DASH-CMAF LL for OSMP+ iOS, OSMP+ Android, HTML5+ and exoPlayer+.

Ad insertion and tracking
Fast channel switching
Adaptive Night Vision
User Experience Monitor, Analytics export and Analytic overlay
AV1 codec
360 and 180 degrees video playback