Innovative Playback Features Can Boost Sports Streaming during COVID-19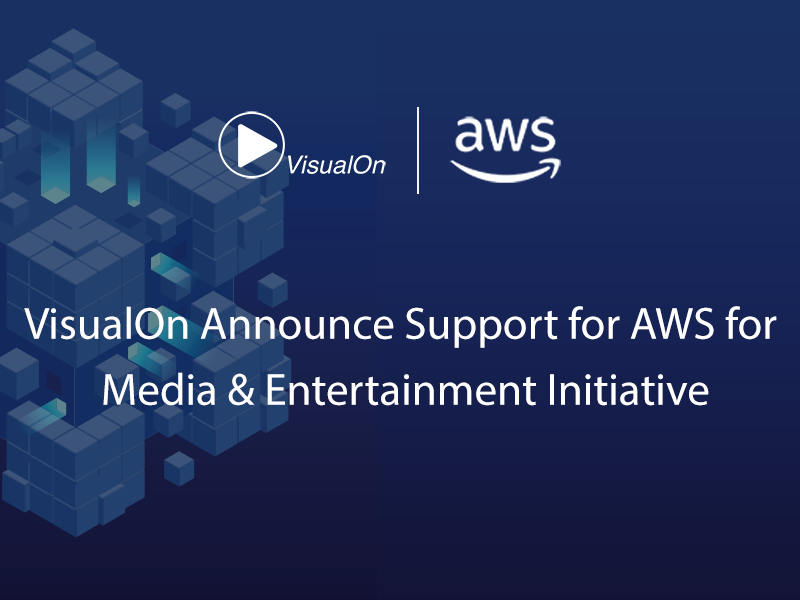 San Jose, Calif., May 25, 2021 – VisualOn Inc., a streaming solutions provider that optimizes the impact of the video player, announced support for the AWS for Media & Entertainment initiative from Amazon Web Services (AWS) to provide an easy and smooth way for video service providers to play video on the web.
AWS for Media & Entertainment is an initiative featuring new and existing services and solutions from AWS and AWS Partners, built specifically for content creators, rights holders, producers, broadcasters, and distributors. AWS for Media & Entertainment also simplifies the process of building, deploying, and reinventing mission-critical industry workloads by aligning AWS and AWS Partner capabilities against five solution areas: Content Production; Media Supply Chain & Archive; Broadcast; Direct-to-Consumer & Streaming; and Data Science & Analytics.
Because available bandwidth can vary depending on variables like network congestion, screen size, resolution, etc., adaptive bitrate (ABR) streaming is critical for the video player to smoothly and reliably play content. The VisualOn HTML5+ SaaS solution features an advanced, proprietary bitrate adaptation algorithm to maintain the optimal quality for a given user's connection, delivering the best in-browser viewing experience.
The VisualOn HTML5+ SaaS player manages the buffer and throughput detection precisely, using analytics and advanced ABR mechanisms, to enable the best viewing experience and therefore is more stable in managing ARB compared to any open source-based players on the market today. The player also supports on-the-fly tuning and reduces regression testing to the bare minimum. Video service providers can focus on the best playback and not worry about potential issues due to source code modification side-effects. In addition, the real-time User Experience Monitor (UEM) from VisualOn has been integrated with the player to provide relevant QoE insights, as well as the ability to immediately identify quality issues related to content delivery, playback resolution, frame drops, etc.
Customers that optimize in-browser playback with VisualOn HTML5+ SaaS can also maximize ad revenue and business return with the integration with AWS Elemental MediaTailor. AWS Elemental MediaTailor is a channel assembly and personalized ad insertion service for video providers to create linear OTT channels using existing video content and monetize those channels, or other live streams and VOD content, with personalized advertising. The integrated solution enables better video monetization with smooth playback and accurate client-side ad reporting. Additional features can be added to the player experience including fast channel switching, Adaptive NightVision and 16X trick mode playback.
Moreover, VisualOn HTML5+ SaaS features CMAF low latency live stream playback in real-world conditions. The solution leverages low latency technologies for the best user experience in all major streaming formats. Low latency is supported for DASH/HLS on iOS, Android and HTML5 (Safari/Chrome) for fMP4 and Transport Stream.
"We aim to provide the smoothest in-browser experience for viewers – for live and on-demand content, but it doesn't stop there," said Yang Cai, CEO of VisualOn. "Our advanced features provide additional analytics to ensure a high quality of experience. And the API integration with AWS Elemental MediaTailor helps capture more revenue through ad-supported channels while maintaining a high playback standard."
More advanced features are available to improve HTML5 viewing experience. VisualOn has recently unveiled WatchParty, a co-watching solution that combines video viewing and socializing in an easy-to-deploy package. VisualOn WatchParty supports for iOS, Android, and HTML5 platforms for Live and VoD content to enable extraordinary viewing experience include real-time text, audio and video chat with flexible room management and private group options. To learn more, please contact us.
Customers can take advantage of the free 45-day trial for VisualOn HTML5+ SaaS player in AWS Marketplace, or contact VisualOn to schedule a demo.