VisualOn Optimizer is Now Available to Reduce Video Bitrates by up to 60% While Maintaining Image Quality and Full Playback Compatibility
SAN JOSE, Calif.–VisualOn, a streaming software provider that enables scalable, cross-platform media playback for leading video services, today announced the availability of its new VisualOn Optimizer product. Year 2021 reached a broadband industry usage milestone, with average monthly usage surpassing half a terabyte for the first time. Video streaming can be extremely bandwidth-intensive and how to save the bandwidth cost is a major topic. VisualOn Optimizer offers a server-side software solution to optimize the bitrate of Live and VOD video content, without reducing video quality. In performance tests, the solution enabled up to 60% bitrate reduction while maintaining the quality of H.265/HEVC and H.264/AVC media for video delivery.
While video quality is increasing with the adoption of high-resolution, high-framerate video such as HD, UHD and AR/VR, the volume of video data is also growing, and the cost of bandwidth, CDN transfers and storage associated with video consumption is increasing every year. In addition, viewers may not be able to enjoy the highest quality if their available download bandwidth does not match the highest profiles.
Thus, for video delivery service providers, reducing the cost of bandwidth, CDN transfer, storage while maintaining or improving the quality of the viewing experience is a critical issue that must be addressed in order to maximize profits in a highly competitive market.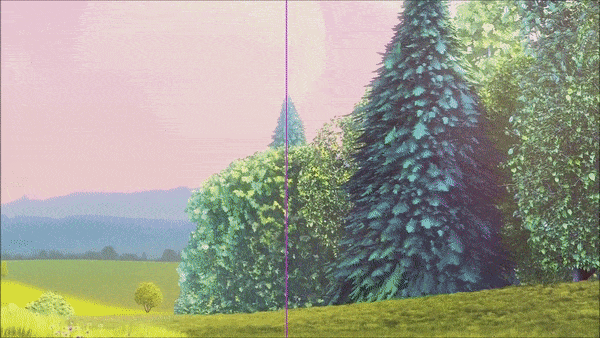 Big Buck Bunny 1080p AVC
Left FFmpeg 2.4Mbps – Right VisualOn Optimizer 1.4Mbps
Based on patent-pending proprietary technology, VisualOn Optimizer is the most advanced per-scene transcoding solution in the industry. It efficiently analyzes the content and to determine the best transcoder settings for achieving the target quality. VisualOn Optimizer can be integrated with existing delivery systems without the need to change transcoders or delivery workflows, and provides the following benefits:
Reducing the bitrate while maintaining comparable or better quality
Reducing CDN costs (pay-as-you-go)
Reducing traffic across the delivery service, improving user experience
Reducing storage costs
Enabling VOD workflow without costly multi-pass encoding
Enabling live workflow with zero latency
Saving energy on storage, transmission and playback
Output files remain fully standard-compliant and can be consumed by any video player. Please contact us to learn more details.